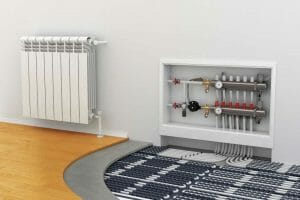 We can aid with the design, supply and installation of your system so that you can concentrate on other areas of your project. When you opt to use our services you will benefit from our expertise and knowledge which will help you to get the most from the installation. Our underfloor heating installations will help to improve the comfort of your property and it will also save space making your property more attractive. We can install wet underfloor heating on both ground and upper floors which means that the whole of your property can benefit from a high quality installation. We are also able to install low build up retro fit water based underfloor heating.
You can increase the energy efficiency of your property by installing underfloor heating
Understanding what you require is part of our service and apart from helping you to design your system we can also help you with heat loss calculations. This will ensure that your property is as energy efficient as possible. This will guarantee that it meets all legal requirements and regulations while also appealing to potential purchasers.
As we have worked on projects of varying sizes - from individual homes to large developments - we know what a first class service is all about. Our service will be tailored to your needs so that we can fit in with your project and your deadlines.
If you require high quality, professional plumbing & heating services for your project, call us today
To learn more about what we can offer, please call Breen Plumbing of Sevenoaks on 01732 642 763 or email us at .