Underfloor heating has become an extremely popular method of providing heating for residential homes. It creates a heated environment that you can control, and improves your home's décor as there is no call for radiators. Underfloor heating also means no more hot spots, cold draughts or clouds of airborne dust.
Underfloor heating is up to 25% more efficient than conventional heating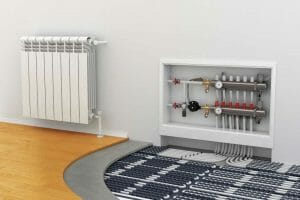 One of the primary reasons for installing underfloor heating is its energy efficiency, radiators have a small surface area so therefore require higher boiler flow temperatures whereas underfloor heating has a much larger surface area and will work effectively with lower boiler flow temperatures – therefore saving money on your energy bills.
At Breen Plumbing, we can undertake projects of types, from home conservatories to your entire home. We can help from the outset of your project, providing design drawings and estimating rates of flow. This will help to ensure that your newly-installed underfloor heating system performs efficiently. This heating method can be used with virtually any kind of floor surface, including screed and below existing joists to avoid the need to raise the level of your flooring. It can also be installed in upper floors.
Underfloor heating is supremely efficient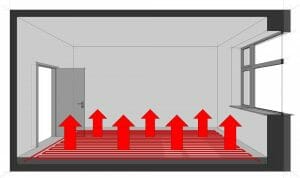 Underfloor heating is a gentle way to supply heat to your home. It provides pleasant, evenly distributed warmth and is extremely energy efficient. There is no need for radiators, and your rooms will no longer suffer cold or hot spots. Underfloor heating can be used under most types of flooring.
We understand that each home is different, so at Breen Plumbing we will design for you a bespoke system to accurately reflect your requirements. We can fit underfloor heating systems to your existing property, or we can work with you on a new build project.
We stand by our reputation
Are you looking to start a new home renovation? Does your new home need a reliable, technologically-efficient plumbing system? Breen Plumbing can handle it for you.
The plumbing solutions we offer include:
Breen Plumbing is an approved installer for Nu-Heat, the UK's largest supplier for warm water underfloor heating.
We engage with the services of a great number of local building companies, and we always make sure we deliver the same levels of excellence each and every time, no matter the scope of the project. Much of our business comes from repeat custom and personal recommendation.
If you are considering the installation of underfloor heating, then please feel free to get in touch with us here at Breen Plumbing in Sevenoaks. You can call us on 01732 642 763, or email us at .