It is important that we all make contributions to the preservation of the environment. To help you do just that, we can supply you with a number of renewable energy systems.
Solar water heating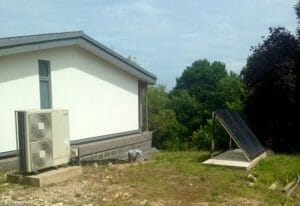 Solar water heating is a method of using clean, infinitely renewable sunlight to provide your home or business with hot water. The energy released by the sun can be captured – no matter the weather – and converted into energy that is then used to heat up your water tank. A sufficiently-sized water heating system is capable of contributing up to sixty percent towards your daily hot water requirements. As energy from the sun is free, using this method of heating will save you money on your energy bills.
The solar panels that are installed are designed for use with your existing heating system, which again will save you money. The panels supplied are highly efficient and come guaranteed – they are easy to fit and maintain, and will work efficiently for at least the following two decades.
Ground source heat pumps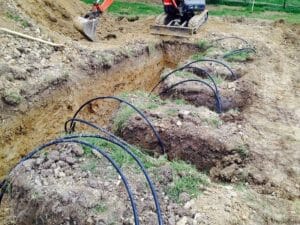 Ground sources heat pumps (GSHPs) use the natural heat that is stored in the ground to provide heat for your property. Such pumps are extremely efficient and can completely replace your existing heating and hot water system. System heat pumps will require separate cylinders, and can be used in conjunction with solar water heating to provide clean, renewable energy.
Energy is used to power your GSHP, but for every one kilowatt of power used, the system can generate approximately four kilowatts of energy for your home or commercial property.
Air source heat pumps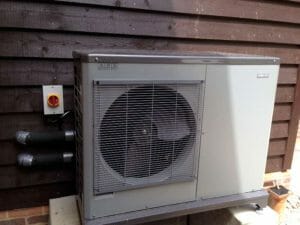 Air source heat pumps use energy that is available in the air to create heat. This process will deliver eco-friendly, money-saving, energy-saving heating and hot water for your property 24/7, three hundred and sixty-five days a year.
Such a heating system is the perfect way of both reducing your carbon footprint, and lowering your utility bills.
MCS Registration for access to RHI Payments
If you're thinking of installing a renewable energy system in your home then give us a call TODAY
Please note, if you use any of the renewable energy systems listed above, Breen Plumbing can give you access to the payments from the Renewable Heat Incentive (RHI) offered by the UK government. For further details of this, or about any aspect of renewable energy systems, please contact Breen Plumbing in Sevenoaks. We can be contacted 01732 642 763, or via email at .